A go to option for extensive beer list and pub grub with a twist. Roof top seating is a summer must. Got to get off of work early and spend an afternoon lunch with my husband. The roof top was great for looking out over the street. It turned out to be a perfect afternoon interlude. Thanks to all the staff for wonderful service.
David Schectman
2022-10-05
Service excellent. For also excellent.
Lisa Matkowski
2022-10-04
Great food, service and no live music
Rich Ruszkowski
2022-10-04
Great local favorite for drinks and food. Staff is always friendly. New outdoor space is nice in warmer weather. Personal fave menu item is the BTS Clucker.
---
The Churchville Inn: A Premiere Farm-to-Table Experience
---
Here at the Churchville Inn we use the freshest seasonal ingredients possible. With such an abundance of farms in the tri-state area, we are proud to offer our guests a true farm-to-table experience.
---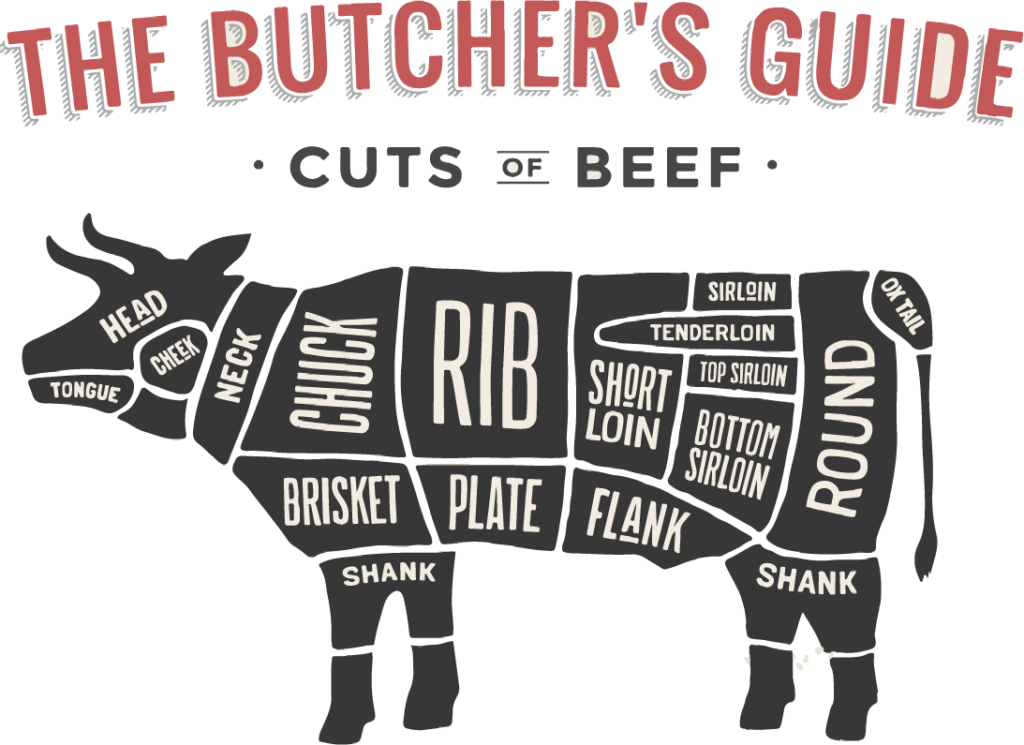 For over 30 years The Churchville Inn has been known by locals as the go-to place for the best BBQ in Bucks County. Come and see what everyone is talking about at one of the most iconic establishments in Bucks County.
---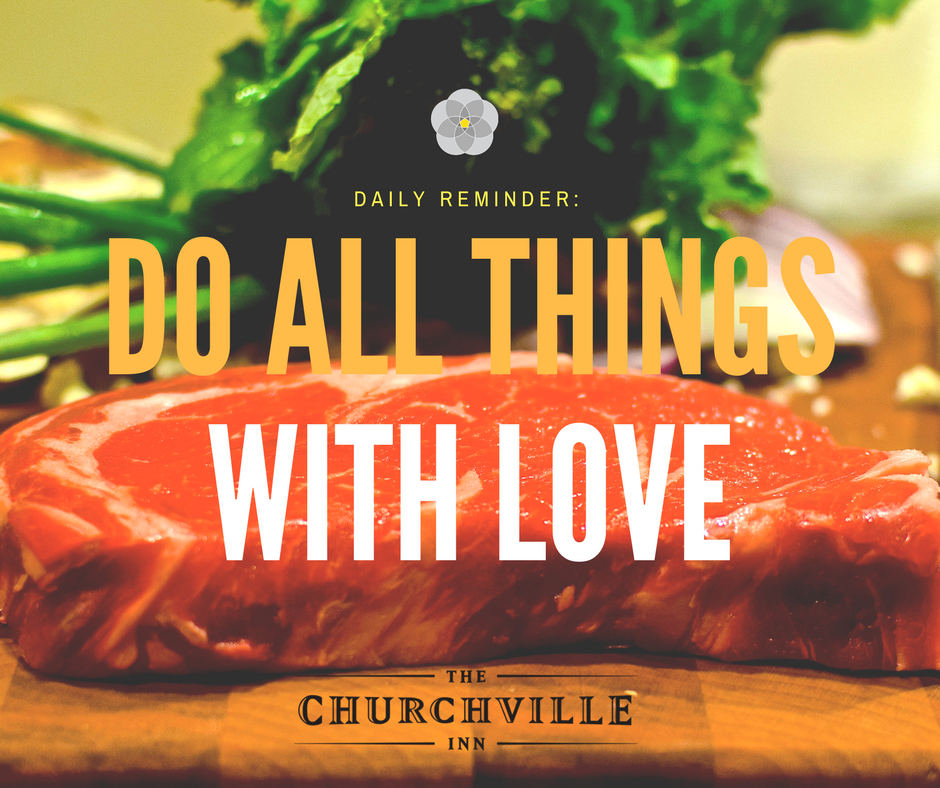 ---
Dining at The Churchville Inn
We rebuilt The Churchville Inn with open-aired simplicity in mind. Like visiting an old friend, we wanted our guests to feel at warm and welcome when they came to visit. We have three rooms inside and two attached patios for outside dining. Here is a brief description of our dining rooms and patios.
---
The Mural Room (A Brief History of Churchville)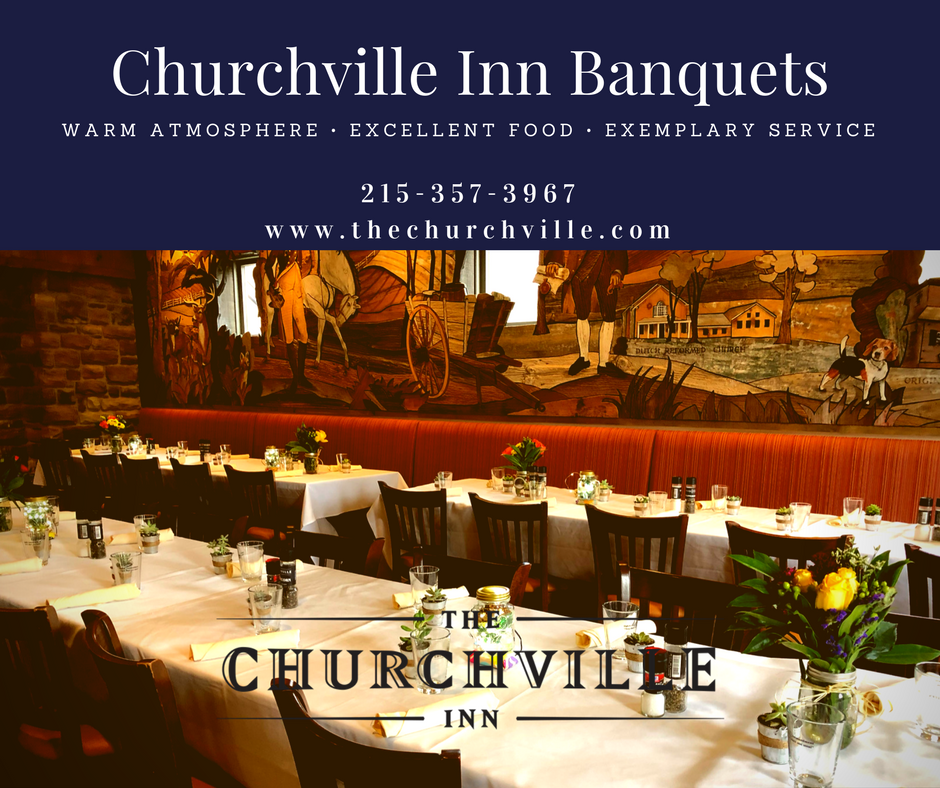 ---
While this room is set up for a banquet in this photo, it is also set up for regular dining. It was named after the large custom mural that was designed by a local artist using reclaimed barn wood from historical barns in the area. The mural tells the story of the history of our local Bucks County community. As you may not know, the village of Churchville has a rich history dating back to before the Revolutionary War. Before the settlers came to the area, Churchville was a thriving Lenape Indian community. As more Europeans came to the area, the native American population dwindled. The Churchville Nature Center (located less than a mile down the street) has excellent displays paying homage to the Native American population that originally occupied the area.
Originally, Churchville was named "Smoketown because the majority Dutch settlers were big fans of smoking large tobacco pipes. In the middle of the 18th century it began to be known as Churchville because of the iconic North and Southampton Dutch Reformed Church was built located just down the street from our location. Across the street from our location used to be the toll house for travelers on one of the main roads for people traveling from Philadelphia to New York. Churchville was a crucial thoroughfare in colonial times and our location provided critical infrastructure in colonial times. If you'd like to learn more about the History of Churchville you can follow the link here.
The Original Bar Room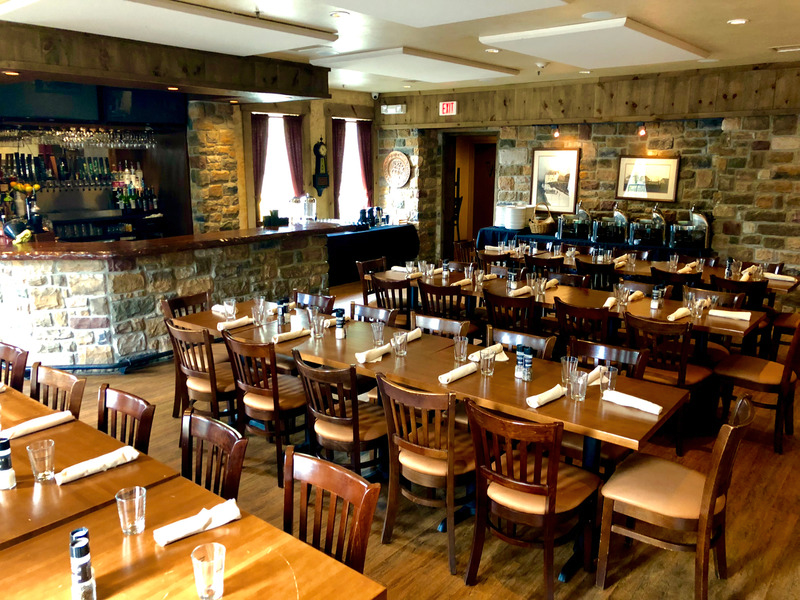 ---
The Original Bar Room has the only surviving piece of the original building before it was destroyed in a fire in 2011. The bar top from our basement banquet room was the only piece that survived from the old building. When we were designing the rebuild we wanted to incorporate a small piece of our old building partly out of sentimentality but mostly because it is a beautiful bar top that was hand-carved out of oak.
The Original Bar Room has a more casual atmosphere and sports 4 large-screen tvs that's perfect for watching your favorite games while enjoying some libations and a great meal. The Bar Room is also very popular for small banquets that can hold about 40 people. Smaller private parties that would like a personal bartender book this room. Other than regular dining, it's a very popular room for corporate events, baby showers, bridal showers, rehearsal dinners, or any other event you could think of.
The Upstairs Bar Room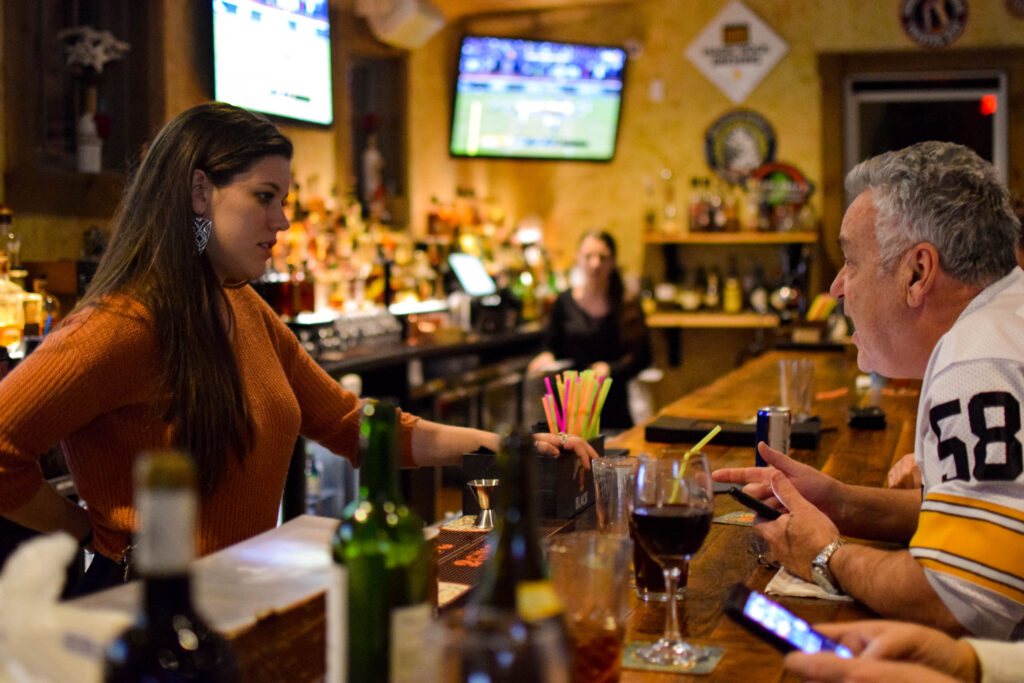 ---
The Upstairs Bar Room is the most popular room at The Churchville Inn. It was designed to be bright and airy with wrap-around windows and area for large parties. There is a large L-shaped bar in front of copious large-screen tv's that is a perfect place to watch the game. There are also 2 massive tables that hold about 12 people each that are adjacent to the bar. This is a favorite for large parties and happy hours as there is plenty of space for your friends and family. This area gets pretty lively during the night as is a great place for a casual date night or a night out with the family.
We have a massive collection of beers and whiskeys up here so it's a great area to try a little bit of everything. People love to regularly meet up here to shoot the breeze with our bartenders or keep up with local events. It's always a good time at the Upstairs Bar Room. This area is our most popular room for banquets and can fit about 80 people. The Outside Patio is attached to this room so there is easy access to our other smaller patio.
The Upstairs Patio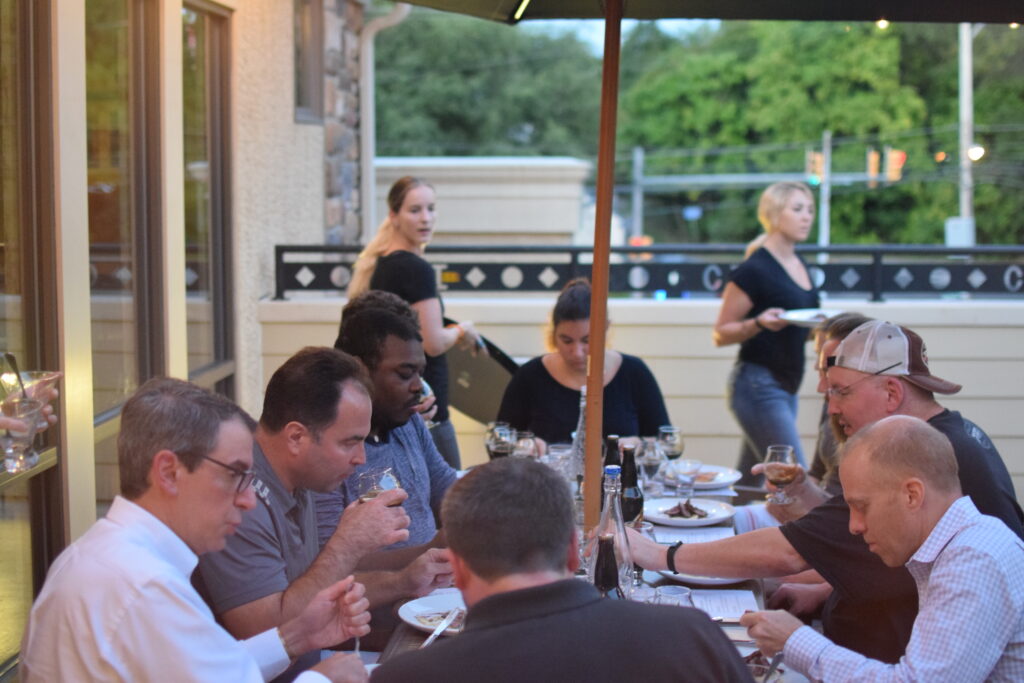 The Upstairs Patio is adjacent to the Upstairs Bar Room. With six outside dining tables, it's a perfect place for an intimate dinner on a warm summer evening. It's also a great place for private parties that want to enjoy the outside dining. This photo is from our Red Banner Beer Dinner that we had. This area can also be used as extra space when you book The Upstairs Bar Room for banquets. It fits about 30 people comfortably and is a perfect addition to any party if you need the extra space to accommodate your guests.
The Churchville Beer Garden Patio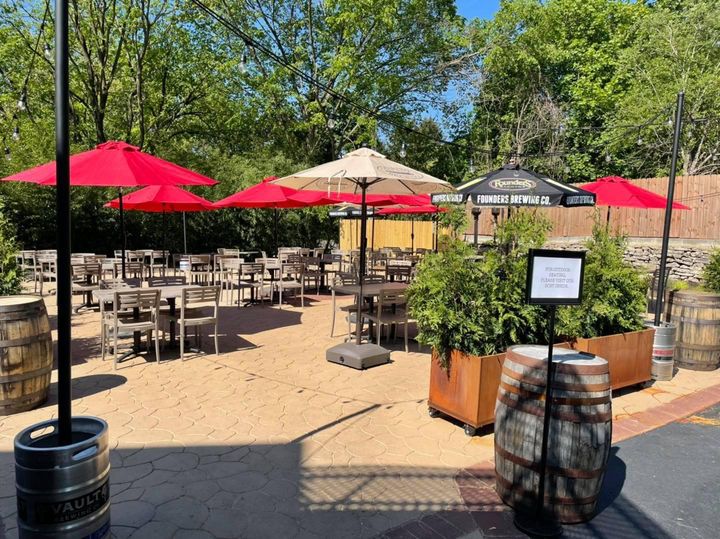 The Churchville Beer Garden was a recent addition to The Churchville Inn from back in 2020 when indoor dining was limited. We utilized a piece of our property to create a wonderful little hamlet designed to be a classic German Biergarten. With large and spacious areas, this is a perfect spot for families and date nights alike. Pets are welcome here so there is usually some interesting pups hanging out with the family. This is a coveted spot on nice days and Sunday Brunch, so it's best to make reservations or get here early.
What's Happening at The Churchville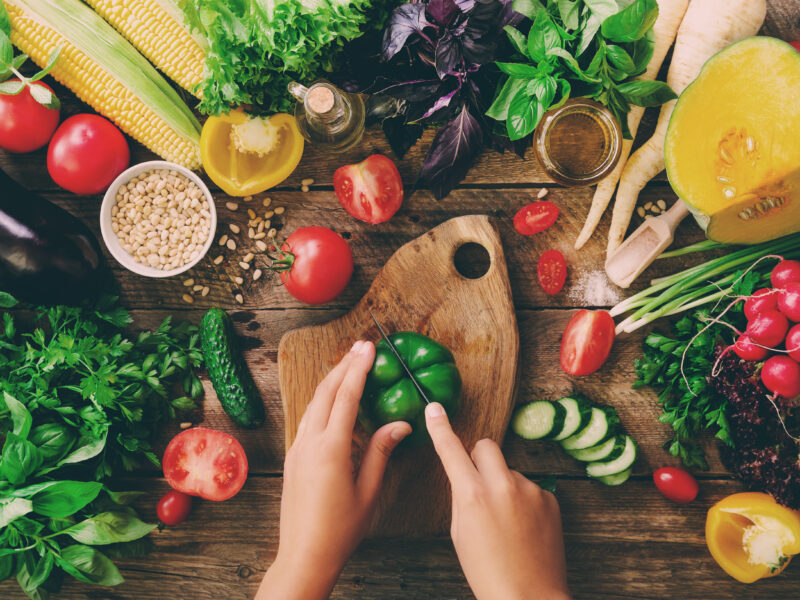 With such an abundance of farms in the tri-state area, we are proud to offer our guests a true farm-to-table experience.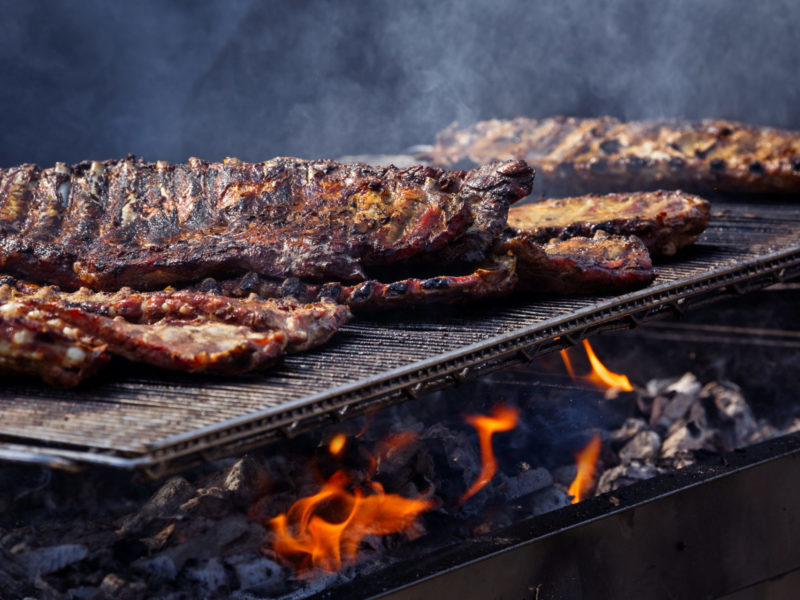 As we inch close to Labor Day and the heat starts simmer down, there is no better time of year for the best BBQ …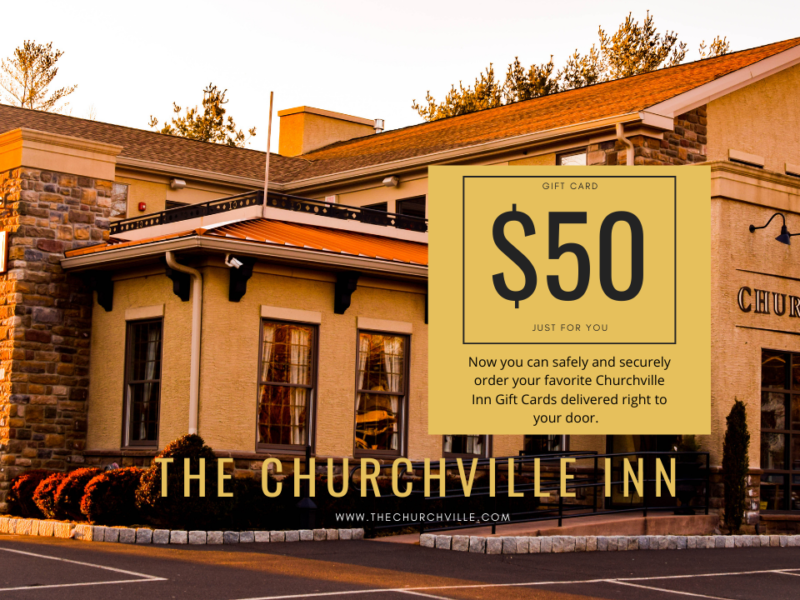 The Patios are now OPEN! We're kicking off summer with our Father's Day so join us for our pet-friendly outdoor beer garden that's perfect …