Bucks County's Premiere Craft Beer and Wine Bar
32 Beers On Tap Daily Plus Over 150 Craft And Microbrews For Your Enjoyment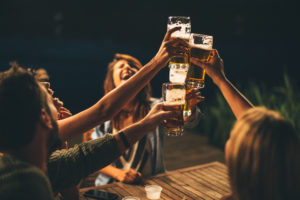 Here at the Churchville Inn, we pride ourselves in possessing one of the best and biggest selections of craft beer on tap in all of Bucks County. Folks from the Northeast and the rest of Philly, to Southampton, Churchville and beyond love coming to our bar to taste a rotating selection of the best in the beer business.
The first floor bar, located left of the main entry, offers an intimate, casual ambience for an after work, before dinner or late night drink with family, friends or business associates. The bar was handcrafted from sections of the former banquet room of the old Churchville Inn. There, you will find 16 beers on tap plus access to our full menu of over 150 beers, as well as top shelf liquor, cordials and wine.
The downstairs bar is located in the "Old Churchville" Room complete with refurbished furnishings from the original restaurant—which tragically burned down in 2011. If you like the look, feel and warmth of a traditional Bucks County country pub, you will truly enjoy the feeling generated in this distinguished, yet relaxed and pretense-free room.
The upstairs, with its high open vaulted ceiling, large capacity bar, high-top tables and multiple large screen TVs, offers a contemporary feel. At the upstairs bar, you'll find over 150 beers including 16 craft and micro brews on tap, plus an extensive variety of the world's best bourbons, vodkas and other spirits. And when it's warm out, we invite you to the nice outdoor patio area, where you can relax and enjoy your favorite food and beverages.
While we continually change up our offerings here at The Churchville Inn, you can be sure that we'll have something you're bound to love every time you stop by. If we don't have one of your current beloved beers on tap when you come to the bar, chances are you'll go home with a new favorite!
Whether you're here for happy hour, brunch, dinner or another occasion, don't miss out on an opportunity to try one or two of the best beers that any bar in Greater Philly has to offer. We carry offerings from the best microbrews, craft breweries and classic favorites from across the country and around the world. The craft beer renaissance is alive and well at both of our bars, and we always try to keep the greatest offerings available on tap.
Every bar has a unique feel, but for the most part they fall into two general camps—classic or contemporary. Here at the Churchville Inn, we're proud to be able to offer one of each! We encourage you to try a pint at each of our two bars and decide for yourself what's more your style.
Want to know what's on tap at the moment? Feel free to look at our website or contact us by calling 215-357-3967. If you live in the Southampton, Northeast Philly or Lower Bucks County areas, stop by our bar tonight for great beer and lively entertainment. We look forward to seeing you!